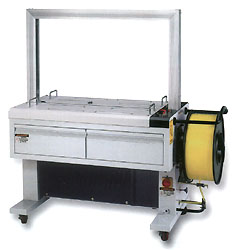 Semi Automatic and Automatic models available.
The new generation Semi Automatic strappers are now inexpensive.Anyone looking for a fast and secure way to seal or bundle packages should seriously consider one of these.Strapping is still one of the most economical methods of packaging.

Semi Automatic
Simply adjust the tension,set the required length of strap to feed out automatically for each strapping cycle then manually place the band over the package into the recieving hole and let the strapper do the rest!

Automatic
The operator adjusts the strap tension then selects either "Manual" or "Auto mode.In manual mode once the package is in place the operator pushes the start button (generally located on the machine or seperate foot switch)and the strapper does the rest.
In auto mode a roller ball switch on the table top activates the cycle the moment the package is placed in position.