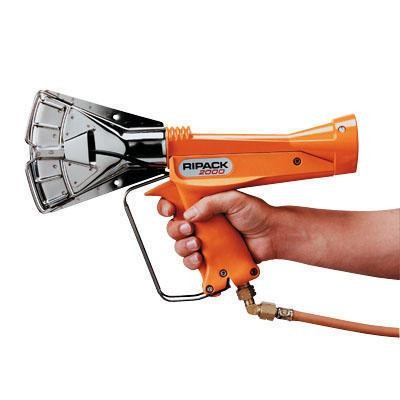 Now with 72kW of power and patented "almost instantaneous ignition " the Venus 2200 makes even faster,easier work of covering pallets and large or irregular shaped items,either individually wrapped or bundled together.
Faster
30% more power means a wider coverage areaand faster shrinking.
More Ergonomic
Lightweight and perfectly balanced.The nozzle can rotate 360" even during use,making precise work even easier.

More Robust
Already famous for its robust construction every part that might be affected by impact ,heat or breakage has now been made even tougher.

Patented Cold Nozzle
The nozzle remains cool during and after use.There is no risk of burns to the operator or damage to the item being covered.In case of the hose being cut a safety regulator cuts off the gas supply.

Includes Carry Case
The compact carry case includes variable presssure regulator with safety valve;8 metre propane reinforced gas hose and spanner.